Things around the spa & store were pretty quiet this weekend which lead us to believe you all had FUN. Whether it was full of relaxation or spring cleaning we hope you had time to kick up your heels for an impromptu dance break.
Perhaps some of us sipped away on "adult" bevies...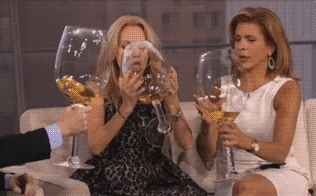 Alcohol consumption often times leads to skin disrupting issues. 
Here's a list of the most common client complaints we receive after alcohol consumption:
1 - Dehydration
Alcohol is a quick acting diuretic which forcing the water out of our bodies. It also makes it more difficult to rehydrate afterwards so you will be left with dry, flaky skin and your fine lines and wrinkles will be more visible thanks to the lack of fluid in your skin.
2- Puffiness
Worse however is the inflammatory effect alcohol has on our bodies. This will quickly show up on the skin in the form of redness, breakouts and puffiness.
3- Breakouts
Alcoholic drinks tend to be high in sugar (I'm thinking bout' you Bellini). The sugar in alcohol can can literally crystallize your skin cells know as "glycation". The aftermath will show up as less plump, supple cells and a duller complexion.
4- Hormone Disruption 
Sugar in alcohol can initiate an insulin response. Elevated insulin levels can have a negative affect on thyroid and sex hormones, causing hormonal imbalances and possible skin problems. 
5- Microbiome Disturbance
Alcohol can deplete healthy levels of bacterium that live within our gut and on our skin. The microbiome helps to regulate our immune system. This is especially important in managing inflammatory skin conditions such as eczema and rosacea. 
So... the BIG question is "HOW DO WE GET OUR GLOW BACK?"
Here's a few tips we suggest:
HYDRATE!!!!!!!
I'm sure by now all of us are aware of the Alkalizing benefits from adding lemon to our water, to kick it up a notch why not add  Ginger!
Ginger is known to regulate blood sugar levels (balance those cocktails and white wine). Due to the antioxidants and vitamins present in ginger, adding this powerhouse to your water will encourage your GLOW back. 
Add a HYDROSOL into your Skincare Routine
We love Cocoon Apothecary's Rose Dew Facial Toner and here's why:
Rose Dew Facial Toner contains one ingredient, organic rose hydrosol, which is the water collected after rose petals are distilled to create the essential oil. The hydrosol contains similar properties to the essential oil and smells like true rose. It hydrates and draws moisture to skin while creating a cooling, revitalizing experience that relieves puffy skin. Contains mild astringents to refine pores and calms redness and irritation with its soothing, anti-inflammatory properties that include nourishing antioxidants. 
https://www.gabeandangel.com/product-page/cocoon-rose-dew-facial-toner
Regenerate your skin Deep Down
Wildcraft has a Regenerating Face Serum that is nutrient packed.
A concentrated, restorative formula rich in vitamins, proteins and minerals for the face. Composed of active ingredients such as seabuckthorn, Ontario hemp seed and frankincense oil, this is our heavy hitter for skin renewal. It goes on light and absorbs quickly (even for an oil). The palmarosa balances your skin's sebum production, making this an ideal solution for all skin types.
https://www.gabeandangel.com/product-page/face-serum
Here's to restoring and rehydrating...
Cheers!
Katie-ann Auger
Sales Director
Please reload