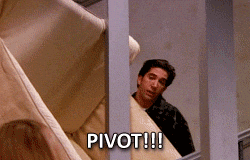 " A key factor in success is knowing when to pivot, to rethink your plan, while still maintaining the mission." 
gabe+angel was opened as a result of my vision of having a top destination beauty spot in the beautiful lakeside community in downtown Oakville.
Since opening we have had successes and mistakes. One of our biggest success is fulfilling our commitment in providing a clean and toxic free environment while offering health focused beauty products and services.  
It is no secret that the Lakeshore construction has put a huge strain on a lot of businesses within the Downtown Oakville, and especially for a startup such as ours. Our biggest mistake is underestimating its impact.
I've always been very open and authentic about my business and I'm not one to sugar coat anything. 
So with that being said, I've made a difficult decision in cutting our losses and to not further renew our lease at 178 Lakeshore. I love gabe+angel and what we stand for and it's very difficult to continue to pursue our mission if we are not making profit. This is not to say that I'm giving up on my dream. This is to say that we are pursuing a new strategy to continue on.
The new strategy involves the following:
1. Partnering with other businesses to create amazing pop-up experiences to offer our products and services in more locations and to cut our overhead costs.
2. Streamlining our services to continue offering products and services you absolutely love such as our Organic Facials, Vegan Lash Extensions and Natural Waxing using the best Local Canadian Organic products.
3. Putting a stronger focus on our digital strategy which will include revamping our website including our online store and being active on social media platforms.
4. Further research on developing our own line of high quality, effective and plant-based skincare
Finally, to all of you who have supported us through the years, thank you. I hope you continue to follow along our journey.
Our last operating day in 178 Lakeshore is September 28th. We will continue to keep you posted on where our next location is going to be so please stay tuned.
Please reload